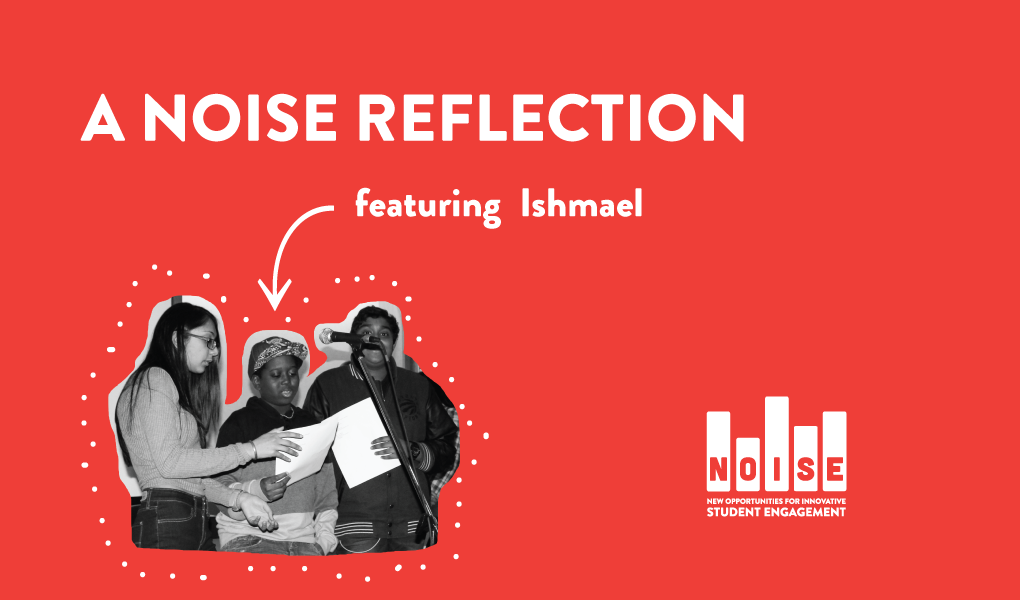 One of our NOISE Fellows, Ishmael, wrote this amazing reflection on his part year in the program, and about when the group went to an event at MaRS Discovery District. We're glad Ishmael enjoyed his time in NOISE because we loved his energy and excitement! (And we're super excited he still visits!)
---
My experience at NOISE was amazing and fun. My pod, Pod M.A.D (Making a Difference) was a really nice group with nice people. For example, my good friend Lisa, she is super nice and artistic. She is really shy but not around me. Mujpaba (BSW fellow) was a really nice guy in my pod and he helped me with some projects, and he liked to play games with me and was there when I needed him to help me. Mafo (BSW fellow) was a really energetic person that goes for anything and likes trying new things. Next up is Lyndsay (MSW GA), she was a really organized person that loved her group and did not want it to end and I love her for that.
NOISE taught me so much about the issues around food insecurity and how to help prevent it in our communities. (I forgot to add the amazing leaders of NOISE! Uzo was an excellent friend and person overall she enjoyed every event chicken lol. Renee was a nice individual that ran NOISE along with Uzo and they did an amazing job together. Hatice was a new person that fit in well with the groups. Hatice made good decisions and helped people with their personal life.) NOISE improved my social skills by making me meet new people and improved my time management skills since we would meet every week Wednesday. NOISE has taught me the ways of social work.
The MaRS event that we went to on May 2nd was pretty fun and it was interesting to learn about new projects that were created by other youth. The MaRS projects were really good, and they had healthy food to eat like cauliflower and fruits. After the MaRS presentation we went to a Korean BBQ restaurant and it tasted amazing. I met some new friends while I was there, for example, Taylor, Precious, Dj, Bryan, and Sofia. When we got to cook our own food, Thawany (BSW fellow) helped me cook.
The final event was an amazing day for me and many more people said the same thing. It is sad that a lot of people I met this year will be graduating from high school and leaving NOISE. For example, Mafo, Jimmy, Nimrat and Ayesha. NOISE helps many lives and teaches us about real world problems. Food insecurity is something that affects many people's lives. Jane and Finch in Toronto is one of the communities that are most affected by food insecurity. The big supermarkets in the area such as Fresh Co are not affordable and the fruits and vegetables there are not fresh.
My last words are that NOISE helps me so much with my life by providing monthly stipends. They are like my big family that cares about me so I love them for that. Thank you NOISE 2015/2016.   –Ishmael Ahmed 14