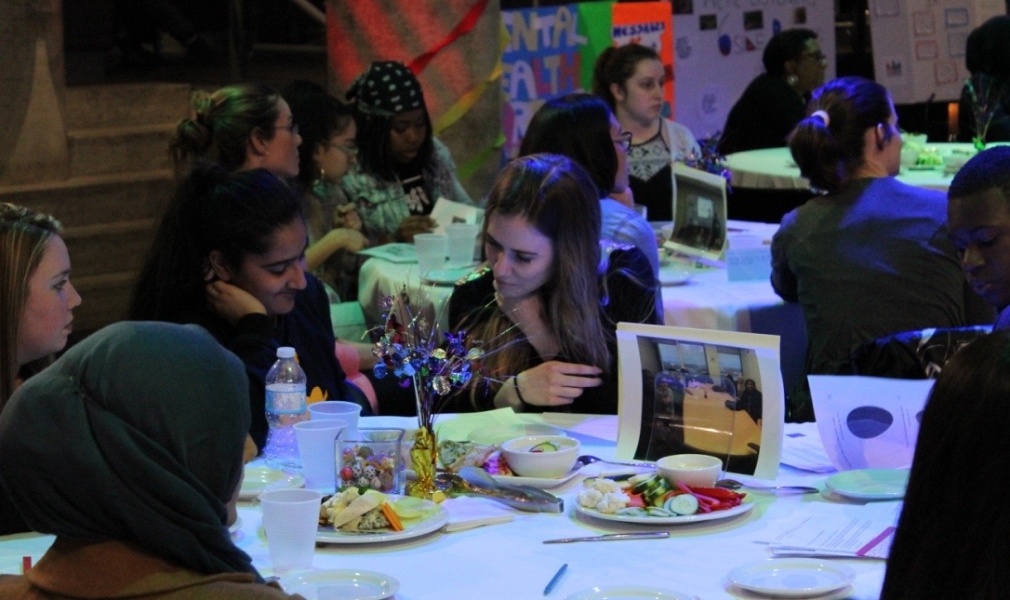 "NOISE shares youth voices that have been left behind."
On April 21, we hosted "Over, Under, Around and Through: Social Justice by All Means Possible", an event to celebrate four years of noisemaking! This was an opportunity for all of the NOISE fellows, as well as our many supporters, to come together, learn about this year's NOISE pods, enjoy some food and lots of great entertainment.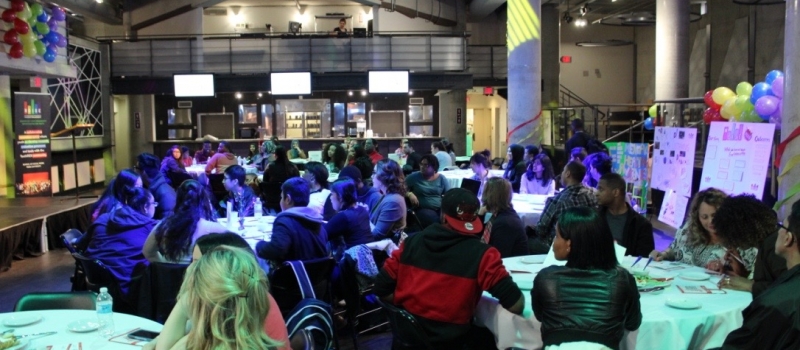 The evening started off with a fantastic performance by Britney Davis, winner of CBC Toronto's Song of the Six competition. Britney shared her own experiences both about the contest, and about her life growing up in the city.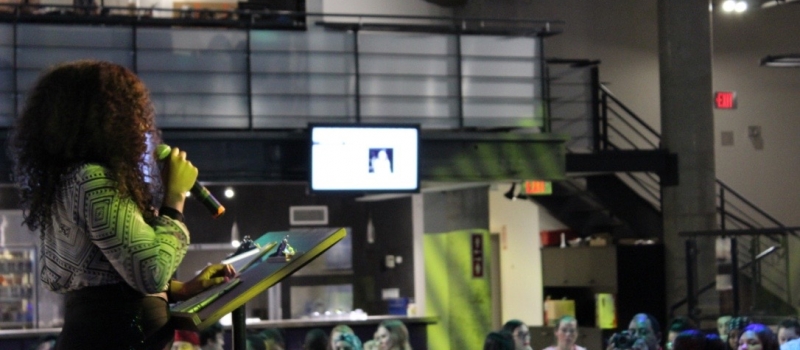 We were lucky to have Professor Alice Pitt, Associate Vice Provost and Professor Narda Razack, Associate Dean from the Faculty of Liberal Arts and Professional Studies at York, as well as Mr. Kurt Lewin aka Amani Ausar, Student Success Teacher at Emery Collegiate to provide opening remarks.

Each of our pods put together presentations for the evening, highlighting their Social Action Projects and their experiences in the NOISE program. It was awesome to hear the youth discuss the journey they went through moving from brainstorming and ideas into research and ethics, and then into a completed project.
Pod Name: M.A.D. (Making a Difference)
Pod Members: Aliyah, Ayesha, Cameron, Francis, Harkaran, Ishmael, Jimmy, Lampkin, Lisa, Lynd
say, Mafo, Monojan, Mujtaba, and Nimrut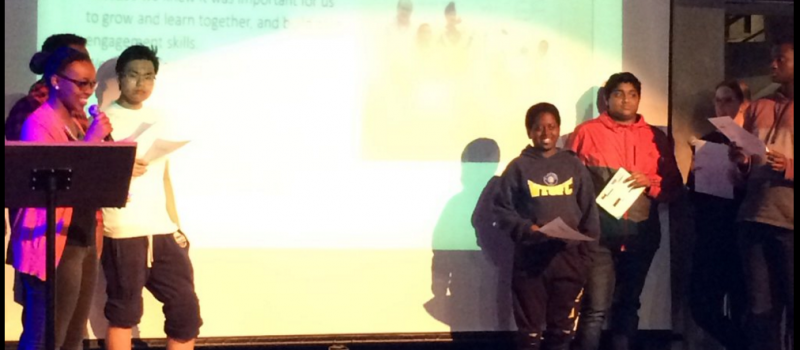 This SAP is focused on food insecurity. They did observation research at major grocery stores in the Jane-Finch community to see if fresh food is affordable and accessible. They then created a leaflet to capture their findings and held a food drive at York University.
Pod Name: 6Side Radicals
Pod Members: Armarachi, Dj, Evelyn, Hailey, Natalie, Precious, Ruth, Ryan, Taelor, Thawany, and Tiffany
This SAP planned an arts night where students were able to present creatively on their research about the mental health issues facing their community. They also created a video about their experiences in the NOISE program.
Pod Name: L2C2 Live Today Change Tomorrow
Pod Members: Ahmed, Amanda, Andy, Bola, Crispo, Disha, Erica, Gagnajit, Josha, Mahant, Mona, Olga, Samantha, and Veronica
This SAP made a short video around the theme of contesting stereotypes, which they shared on social media platforms for public viewing.
Pod Name: F.U.T.U.R.E.
Pod Members: Alia, Amber, Aneels, Aviva, Avneet, Benjamin, Joshua, Kevin, Lainey, Monique, Raven, and Safia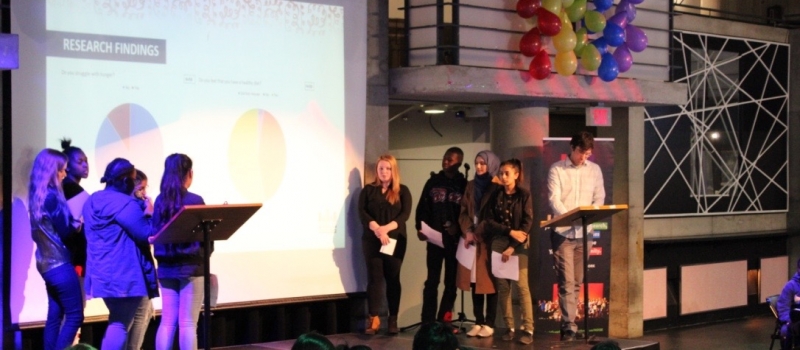 This SAP wanted to look into the possibility of expanding a food nutrition program in conjunction with FoodShare. They distributed questionnaires to Emery students about healthy and accessible food within the school.
Pod Name: Change in the Six
Pod Members: Anna-Lisa, Anthony, Brion, Crystal, Hailey, Hiba, Javon, Kadisha, Nathaniel, Nitin, Shaindy, Shanelle, Shaun, Sinthu, Tarisha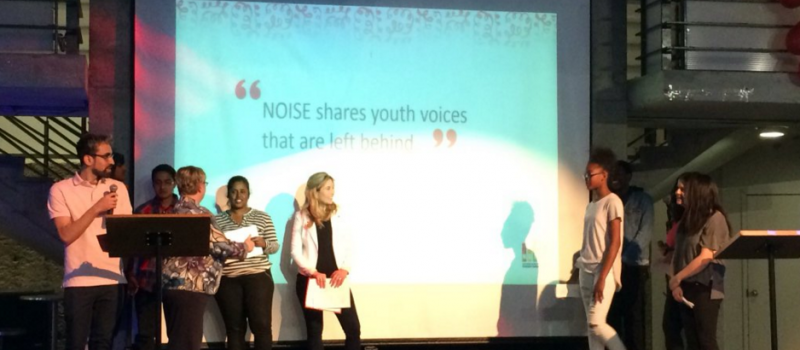 This SAP developed a school tabling event to increase awareness on mental health issues among youth. They wanted to decrease stigma and build a supportive community by providing information, resources, and demonstrating the prevalence of mental health issues in their community.

In addition to the Social Action Presentations, we were joined by Lola Bunz and David Delisca whose performances were both entertaining and incredibly powerful.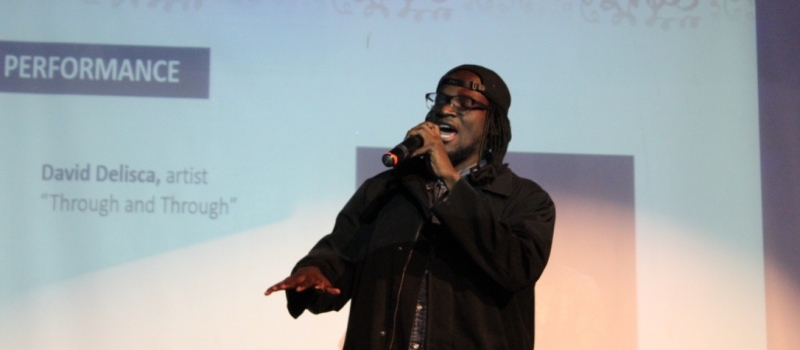 Throughout the evening, we saw firsthand the remarkable work that our NOISE fellows have accomplished not only over the last year, but also since the program's inception, four years ago! Their Social Action Projects were relevant, timely, and necessary.

We were all very proud to see the youth accept their certificates in recognition of their time in the program!