"Policing is an institution that is always a little bit behind the times when it comes to diversity and human rights. We've done a much better job in the last 10 to 15 years, but there's still a long way to go." – Peter Sloly, Former Deputy Chief of the Toronto Police Service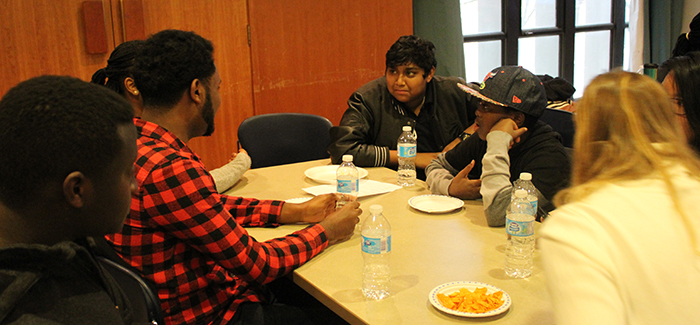 It seems as if the media has exploded with stories about relations between police and citizens, both in Canada and around the world. Here at NOISE, we recognize that it can be hard to navigate such stories and so on Tuesday, February 9, 2016, we hosted our second Dialogue Session, "Police & Community Interactions: Did You Know?"
This session featured three guest speakers, Jamil Jivani from the Citizen Empowerment Project, Amy Sharaf and Richard Beatty, Education Officers for the Office of the Independent Police Review Director (OIPRD), as well as a recap from NOISE alums, Legacy 3.0. Legacy 3.0 (Loyal, Engaging, Giving, Active Creative Youth), were NOISE fellows last year who focused their social action project on the impacts of policy practices on racialized youth in the Jane and Finch area.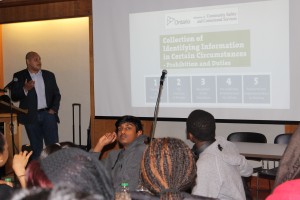 After enjoying a meal together, the NOISE community was ready to start a conversation about Police and Community Interactions.  We were lucky to be joined by Jamil Jivani, visiting professor at Osgoode Law School and founder of Citizen Empowerment Project, a public education organization focused on Canadian law and policy issues. In his talk, "Bridging the Divide Between Police and Community", Jamil shared his own insights and experiences about the relationships that exist between police and citizens. He also talked about a report that he and the Citizen Empowerment Project had written surrounding new Ontario regulations about carding. You can find the report here.
Jamil was followed by NOISE alums, Legacy Pod 3.0 (Learning, Engaging, Giving, Active, Creative Youth), who shared what their experiences with NOISE had been. The group pointed out that while they had begun the program as youth with different identities, privileges, and experiences, following the successful completion of their social action project, they emerged as researchers.
After reaching out to Division 31 of the Toronto Police Department, inviting them to NOISE events and pod meetings, Legacy 3.0 was told they would have an opportunity to present their findings to the police. Although this date has been pushed back or rescheduled, Legacy 3.0 is committed to making their research known, remaining in contact with Division 31, but also presenting at other conferences and developing articles to be published. Seeing what this pod was able to achieve was a great source of motivation for current NOISE fellows to continue working hard on their own social action projects.
Next up were Amy Sharaf and Richard Beatty who work as Education Officers for the Office of the Independent Police Review Director (OIPRD). The OIPRD receives, manages, and oversees all complaints about police in Ontario. Established in 2007, the OIPRD began working in 2009 as an independent and neutral agency of the Ontario Ministry of the Attorney General. All employees are citizens, and as such, they "make sure that public complaints about police are dealt with in a manner that is transparent, effective and fair to both the public and the police." It was great to have Amy and Richard on hand to explain the process involved in lodging a complaint against the police, a process that not many people in the room were familiar with.
This dialogue session provided an opportunity for a necessary discussion around a topic that despite consistently being in the news, still requires a great deal of unpacking. Many thanks to our guest speakers and to all those who attended for making this Dialogue Session such a success!
–

ADDITIONAL RESOURCES
"Racial profiling hurts everyone, including the police" – Jamil Jivani TEDx Talk
In his TEDxToronto talk, Jamil discusses the importance of mediating the relationship between the police and the public. Though there may be fundamental flaws in the system, Jamil believes that by developing a dialogues with police officials, we can initiate positive change.
"Toward a New Chapter in Our History: How the New Ontario Regulation Provides an Opportunity to Renew Police-Community Relations" – Report from Citizen Empowerment Project
This report is based on a series of Policing Literacy Initiative community consultation dinners from the fall of 2015. At these events community members from the Greater Toronto Area gathered to discuss the Government of Ontario's consultation draft regulation on carding and to provide feedback and recommendations for how police services, police services boards, community groups and activists can move forward in 2016 to strengthen police-community relations.
"Making a Complaint about the Police: Guide and Complaint Form" – from the OIPRD
This document outlines the steps necessary to file a complaint against the police with the Office of the Independent Police Review Director.
"Known to the Police" – from the Toronto Star
An informative Toronto Star investigation series about race, policing, and crime that includes videos, articles, photos, interactive maps and more.
"This issue has been with us for ages": A community-based assessment of police carding in 31 Division – Report from November, 2014
The Community Assessment of Police Practices (CAPP) is a community-based research initiative that is examining community satisfaction with police-community interactions in the City of Toronto. The CAPP conducted a community-based research project in the neighbourhoods of 31 Division throughout the summer of 2014. They wanted to engage with people in the community to find out their experiences with police and more specifically their experience with the police practice known as "carding". This report is based on their findings.
Community Assessment of Police Practices (CAPP) – Video
This video highlights the results of the November, 2014 CAPP report.
The Path Home – Photo Essay
This Photo Essay was written and photographed by Wayne Salmon. Salmon grew up in Jane and Finch and prepared the essay for the CAPP as a reflective piece on his experiences in the community in relation to interactions with police.